FREQUENT ASKED QUESTIONS
Our FAQ can clear thing out for you.
Questions & answers
Do you broadcast all year round?
Yes, you can listen to Halloweenradio.net 365 (+1) days a year.
How do I open this stream in Winamp or another player?
Go to the 'File' menu, and click 'Play URL'. In the open URL field, copy and paste this address: http://listen.halloweenradio.net/. More information about our streams and troubles listening can be found on our listen page.
Can I use this streams for my home haunt?
Yes, you can use all of our stream for your home haunt, party, event, ... .
Can I send my music?
Yes, more information about sending songs and music to Halloweenradio.net can be found on our contact page.
Questions & answers
Is Halloweenradio.net kids / children friendly?
We've realized that all things Halloween aren't necessarily family friendly and can get parents worrying. Therefore we bring you Halloween Radio Kids, a special edition of Halloweenradio.net, made with kids in mind. We've collected songs that are advertised on children's cd's and should be safe for fun-filled family afternoon.

To all you papa goblins or mama goblettes, a word of caution: the slightly colourful chants on this station might spook your little imps. For them we propose a safe sheltered Halloween Radio Kids to pass a scrubbed up, brushed off, dust free, rinsed clean, vacuumed out, spruced up wicked Halloween!
Do you feel that chill in the air? It's the October wind, waiting to whisk you away to a world of scares and spookiness! Here at Halloween Radio, we just can't get enough of that hair-raising feeling, so we broadcast a selection of our favorite spooky songs 24/7!
Whether you want to create the perfect spooky atmosphere for your Halloween party, or just can't wait for the big day to get into the Halloween spirit, stop by anytime and treat your ears to some creepy classics. From the Monster Mash to Thriller, there are plenty of tracks to get those skeletons in the closet up and dancing about all day long.
On this station, October 31st isn't the only time when ghouls and ghosts get to come out to play. We broadcast all year round, so even when November rolls around, you can relive all the tricks and treats of the night before to your heart's content. We play every kind of music, so long as it has a terrifying twist, so what are you waiting for- hit play, and get ready to have your socks scared off!
Halloween cards
Want to surprise (or spook) your friends and family with a cute Halloween card? We created just that: A Halloween card delivery service. :) Now let's hope we didn't create a monster. Did we? Go give it a turn. Surf to card.halloweenradio.net, choose one of the cards, fill out the form and add some ghostly message.
Five haunted channels
This Halloween (and beyond) we have 5 haunted music channels for you! Halloween Radio Main, Oldies, Atmosphere, Kids and Movies & Soundtracks.
Android & iOS apps
Unfortunately, due to circumstances, we had to stop the collaboration with our app provider. We are looking for a solution. Until then you can find the Halloween radios on the Tunein app.
Useful links
If you have questions about Halloween Radio, our FAQ should up.
Share our Halloween countdown with all your friend on Facebook, Twitter, Instagram and all the other macabre social channels.
Want to share & scare, use our banners and logo's on your social media or website.
More news can be found here.
RADIO STATIONS
Select one of the five haunted Halloween music channels, Main, Oldies, Atmosphere, Movies & Soundtracks or Kids.
.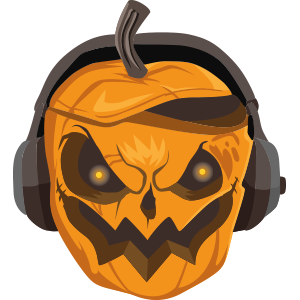 Halloween Radio
Main
now on air
John Zacherle - Happy Halloween
Halloween themed music, scary tunes or songs with a ghostly touch. Celebrate Halloween all year round with easily digestible worms Halloween pop, rock & ambient music.
.